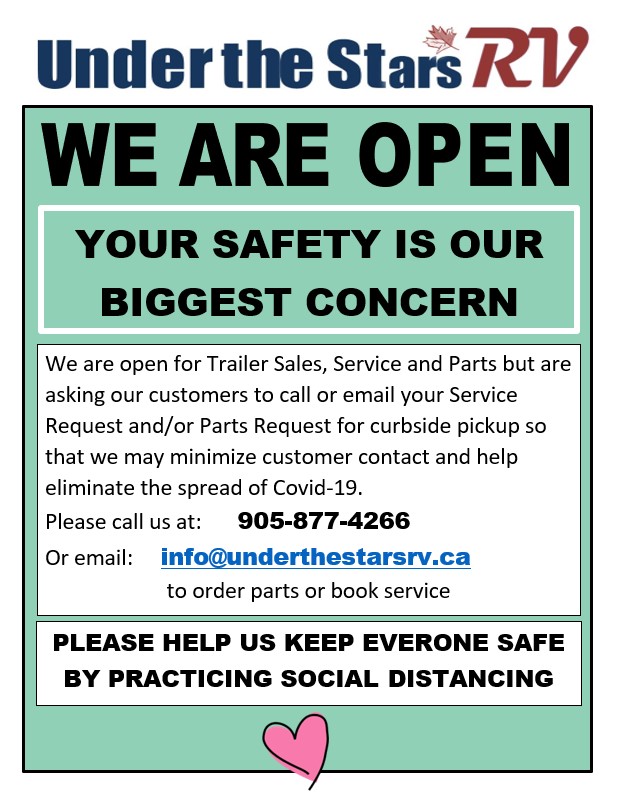 PLEASE NOTE THAT WE WILL BE CLOSED FOR A WELL- DESERVED HOLIDAY FOR OUR STAFF AND MANAGEMENT BETWEEN
MONDAY AUGUST 3 - FRIDAY AUGUST 7TH
AND REOPEN SATURDAY AUGUST 8TH

Thank you for being a customer of Under the Stars RV.
We are excited to be finally entering phase 1 of Ontario's 2 phase reopening procedures!
Here at Under the Stars RV we will be allowing people in the store as long as you have masks and gloves. At this time we are asking that you only visit if you are healthy and do not have a cough, fever or feel unwell to avoid spreading the Covid-19 Virus. Although we have been waiting a long 2 months to reopen our store, the Health and Safety of our customers and employees is still our top priority.
As such, at this time, we still prefer to keep the doors locked and practice curbside pickup for parts until the end of next week. Please also understand if there are employees that are here but are working exclusively behind the scenes and are unable to help out front.
In Ontario there are a lot of people who might require parts, as many people live in their RVs. We are answering phones and emails. Please give Pat a CALL at 905-877-4266 or EMAIL at info@underthestarsrv.ca and we will get back to you as soon as possible.
Our New and Used Trailers can still be accessed on our website. Photos and information is listed for each trailer. Please feel free to email about our trailers anytime at sales@underthestarsrv.ca and Janice will get back to you within 24-48 hours. You can also make an appointment to see the trailers and purchase them.
We are also booking rentals for the summer months as we are remaining positive that the parks will be announcing their opening for the summer very soon.
As we know that some of you are at home with your children , we would like to encourage you to check out our kids page on our website under " MORE" for the children right here https://www.underthestarsrv.ca/just-for-kids/. There are colouring pages, word search puzzles and other puzzles that your children might like to do to keep them occupied while at home and staying safe. Feel free to take pictures of your childrens coloured pages and post them on our facebook page. We are excited to be planning for the summer months and we are still actively planning instore specials for when we can all return to the stores.
Whenever possible, PLEASE stay home, stay safe, stay healthy: Pat & Rene and Staff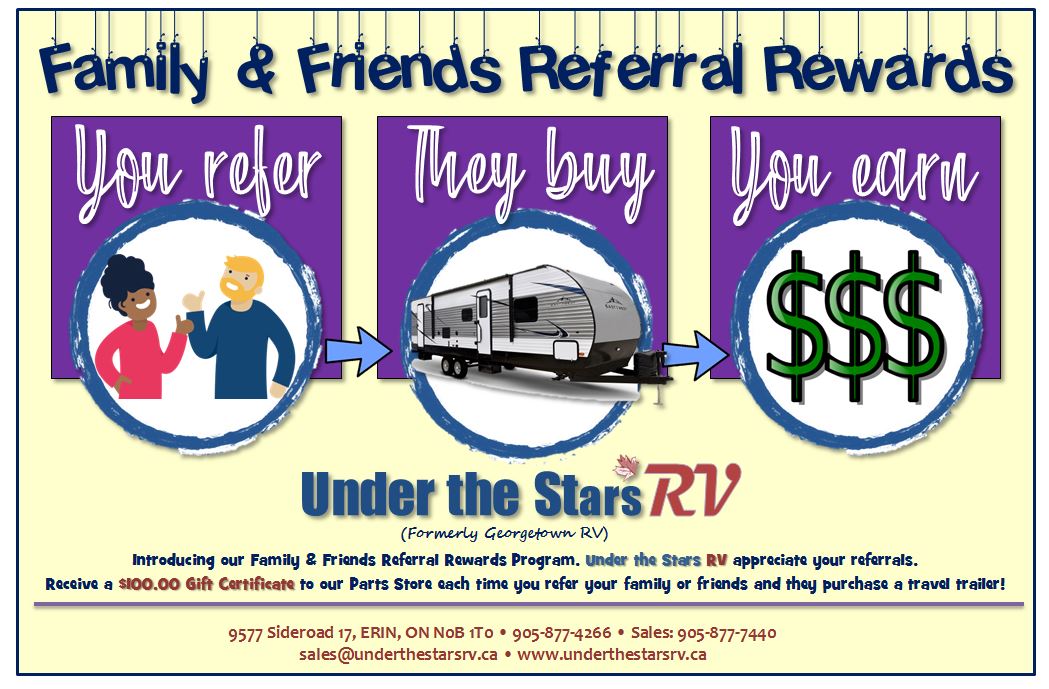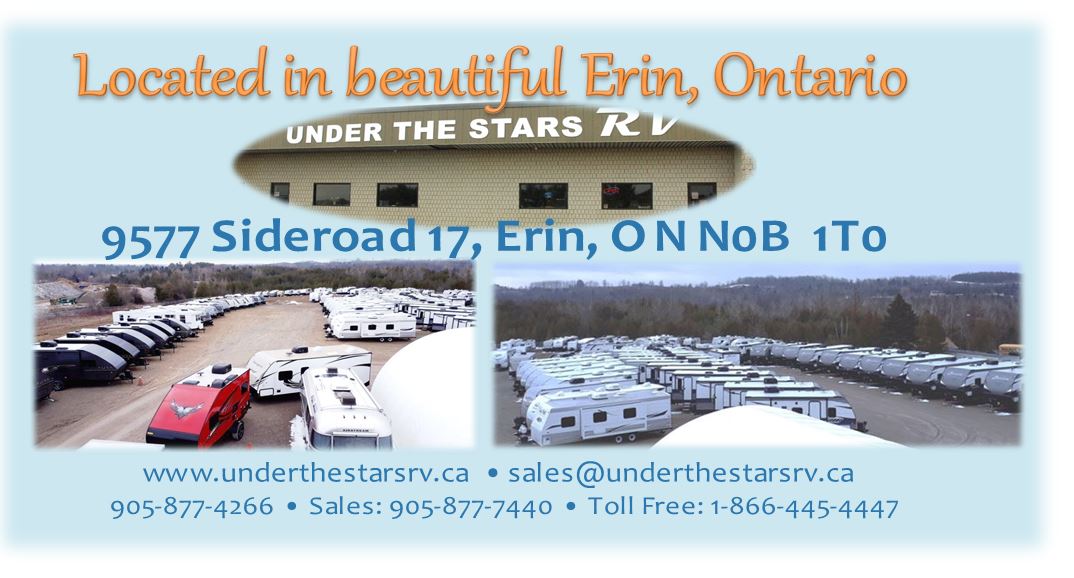 Welcome to Under the Stars RV!
At Under the Stars RV we offer our customers:
Huge selection of in-store parts in our 2300sq foot store
2 service bays with 14 foot bay doors for larger motorhomes, fifth wheels and trailers
New Tire Installer and Balancer
Fenced and gated storage facility
AIR MILES® Reward Miles on Trailer Sales, Parts Sales, Rentals, Service & Trailer Storage
We are a full service centre with propane licensed technicians. We work on everything from Hitch & Wiring, Plumbing, Propane, Hardware, Insurance jobs, and Warranty issues.
Our Hours are:
MONDAY TO FRIDAY - 9:00 AM TO 5:00 PM
SATURDAY: 9:00 AM - 3:00 PM
SUNDAY: Closed
Under the Stars RV pride ourselves on great, quality service with no hassles, fair pricing, courteous and Knowledgeable staff. We service all makes and models of Travel Trailers, Tent Trailers, Fifth Wheels, Truck Campers, and Motor Homes (except engines). Full Service Bays with licensed technicians provide everything from Hitch & Wiring to Plumbing, Propane, Hardware, Insurance Jobs, and Warranty Issues.
Come see us for all these and more:
Antennas, Fridges, Hitches, Wiring, Brake Controls, Air Conditioners, Water Heaters, Toilets, Electrical, Trailer Covers, Vents, Tires, Plumbing fittings etc.
Like us on Facebook!
Thank you for your continued support!
René & Pat Stornebrink & Staff
Great Parts...Great Service...Great People!
Thank you for checking out our webpage.