WHEEL BEARING SERVICE & TIRE CHECK
Recommended annually or every 5000 km to prevent bearing & brake failure. We check your tires for cracks and pressure check.
ELECTRICAL SYSTEM INSPECTION
Perform every 6 months to prevent electrical failures & maintain safe operation.
WATER HEATER SERVICE
Recommended annually to prolong the life of the storage tank & keep it operating efficiently.
FURNACE SERVICE
Annual inspections & service will help keep your furnace operating safely & efficiently.
RUBBER ROOF PREVENTATIVE MAINTENANCE
One of the most expensive RV repairs can be avoided with an annual inspection, cleaning & UV treatment of your rubber roof.
REFRIGERATOR SERVICE
Routine inspections for optimal air flow & burner/flue cleaning can prolong the life of your refrigerator and keep it operating efficiently.
WATER SYSTEM CHECK
Recommended annually to aid in preventing water system failures.
APPLIANCE/ACCESSORIES CHECK
Perform annually to help keep appliances & accessories operating efficiently & provide trouble-free travels.
RV ORIENTATION
Just brought a previously owned RV and want to know how it operates? Let us show you how!
AIR CONDITIONER SERVICE
Air conditioners operate more efficiently & perform better with the coils cleaned & filters changed annually.
WINTERIZATION PACKAGES
Prior to winter storage, make sure to winterize for enjoyment next Spring.
DE-WINTERIZATION
After the long, cold winter, make sure your system is clean of antifreeze & checked for leaks.
EXTENDED WARRANTY SERVICE
Repair or replace awnings, appliances, electronics & more!
MANUFACTURER'S WARRANTY
For Keystone and Forest River Trailer 1 year manufacturer's warranty
SLIDEOUT MAINTENANCE SERVICE
Includes slide out inspection & lubrication of seals & slide mechanism. Annual inspections are recommended to maintain trouble-free operation.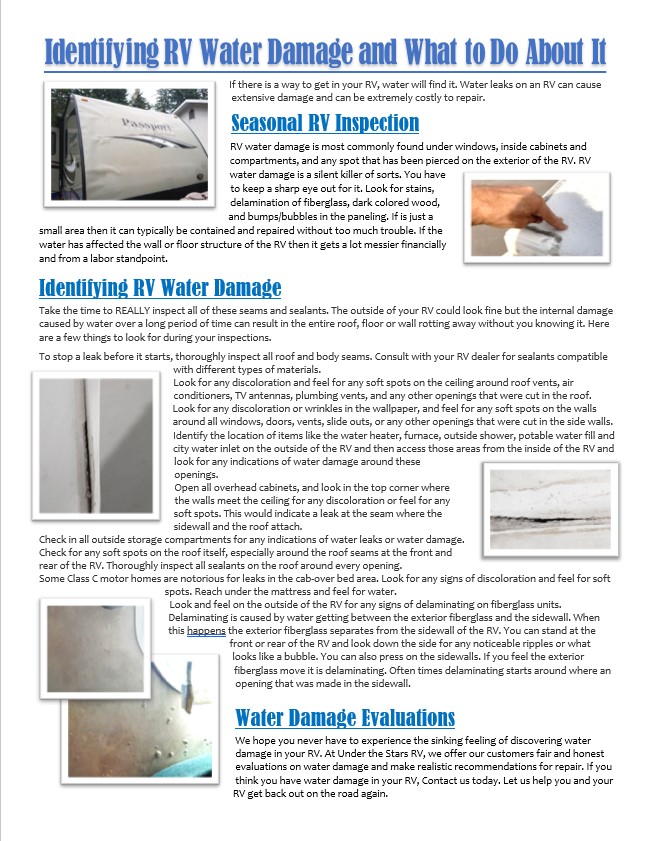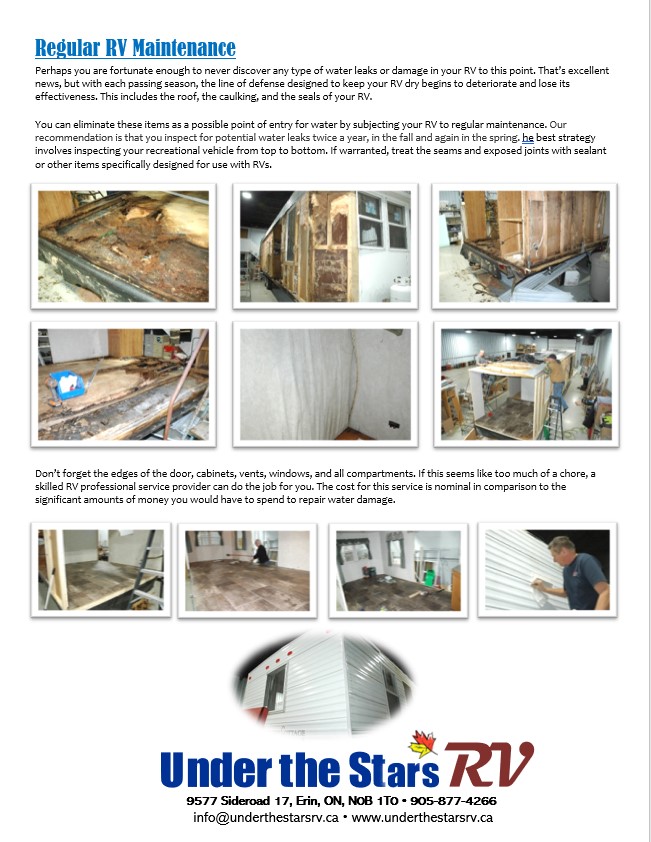 We offer a variety of services for all types of RVs.
RV INSPECTIONS
Keep your RV in optimal condition by having regular inspections conducted. We will be offering two different inspection packages:
BRAKES AND BEARINGS PKG.
We will clean and remove all grease from bearings and brakes, inspects brakes, drums, bearings and races,clean up the drums and add in all new grease.
SPRING SERVICE PACKAGE
· De-Winterize (Flush Water Lines)
· Gas Leak and Pressure Test
· "Check Appliances" (water heater, furnace, refrigerator, air conditioner) (Repair Parts & Additional Labor are not included)
· "Check" Roof & Body Seals
· "Check" Tire Pressures
· "Check" Wheel Nut Torques
· "Check" 12V Interior Lights
· "Check" Exterior Lights
· Brake-away Switch Safety Inspection
· Safety Chain Safety Inspection
Contact us today to book an appointment! 905-877-4266